About Us
Andrew Aitken - Osteopath & Western Medical Acupuncture (WMA)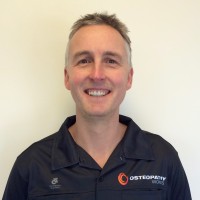 Andrew works from the Dunedin (Suite 13 Marinoto Clinic) and Balclutha branches of Osteopathy Works.
Andrew was born in Dunedin, and educated at Otago Boys High School. He continued his education at the University of Otago where he completed a Bachelor of Physical Education (BPhEd), and a Bachelor of Science (BSc). Having completed these qualifications Andrew then worked in London as a personal trainer. After completing his overseas experience he began studying a Bachelor of Information Technology, and worked for two years in the I.T. industry. Realising that this simply wasn't his passion, he completed a Postgraduate Diploma in Sports Medicine (PGDipSportMed), specialising in exercise prescription, sports nutrition, and ergonomics. From here he entered the five year Osteopathy course at Unitec in Auckland (BAppSc(HB), MOst). His masters thesis was on the topic of Forward Head Posture. Andrew is also a qualified acupuncturist (PGCert (Western Acupuncture)).

Outside of work Andrew possesses broad skills. He has been a representative tennis player as well as professional coach. He has a black-belt in ITF Tae kwon-do, paints and sells watercolour paintings, and enjoys running and triathlons.

With six tertiary qualifications, Andrew is one of the most highly qualified osteopaths in the country. These qualifications give him additional specialised expertise in exercise prescription, sports nutrition, and sports related injuries.
Jerome Wigger - Osteopath
Jerome works from the Balclutha, Dunedin (Suite 13 Marinoto Clinic), and Palmerston branches of Osteopathy Works.
Jerome is an Australian trained Osteopath who joined us having completed both a Bachelor of Science in anatomy and physiology, and a bachelor/masters double degree in Osteopathy.
Jerome takes the time to care and learn the ins and outs of his patients; this enables him to provide treatments unique to each individual's condition. He treats structurally using soft tissue techniques as well as movement based treatments for patients who are struggling with their mobility. Jerome also holistically uses diet, exercises and lifestyle changes to enable his patients to lead pain free and healthy lives.
Jerome is comfortable treating a vast range of patients of all ages, shapes and sizes; from younger children through to elite sports people. This is reflected in his professional experience that ranges from spending ten years as a youth swimming teacher while studying all the way through his involvement in the AFL Northern Football League Div1 2016 double premiership team Heidelberg.
On his weekends Jerome enjoys exploring all the South Island has to offer with his wife Dani. He follows a wide range of sports especially AFL and rugby union and spends his spare time tramping, reading, skiing and cycling.
Tim Casey - Acupuncture Specialist
Tim works from the Suite 9 Marinoto Clinic branch of Osteopathy Works.
Tim Casey, Acupuncture Specialist, began his journey with acupuncture in the 1980s when he was injured in a fall that left him unable to walk. It was acupuncture that took away the pain and allowed the tissue to heal and got him back on his feet. Tim has lived and worked in Dunedin in the field of Acupuncture for more than 14 years.

Tim originally trained in Traditional Chinese Medicine (TCM) at the Australian Collage of Natural Medicine (ACNM) in Brisbane, Australia. Tim's also studied Toyohari (East Asian needle therapy) in Tokyo, Japan, where he was to expand his acupuncture knowledge as taught by the blind (Japan has a 700 year old history of encouraging the training of non-sighted practitioners of Acupuncture due to their heightened sense of touch). Tim continues to pursue acupuncture studies and practical training; most recently travelling back to Brisbane and Sydney to learn the teachings of Dr. Yoshi Manaka's proteges, Kiiko Matsumoso.

It is Tim's opinion there is no health related issue that cannot be treated by acupuncture; "if the condition cannot be treated directly, then it is always possible to treat symptoms surrounding the condition."

Tim is a registered ACC provider and a member of the New Zealand Register of Acupuncturists (Acupuncture NZ).

For further information visit www.dunedinacupuncture.co.nz

Tim also has his own natural food business: Pure Love "Our Food, Your Medicine".

For further information visit www.facebook.com/purelovehealth/